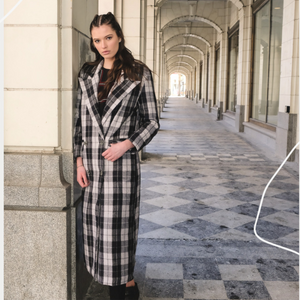 Vintage Peaks Ultra Long Jacket
AHHHH! This jacket checks all the boxes. ALL. OF. THEM. 
Covers your bum, thighs, calves AND maybe even you ankles depending on your height. And c'mon, in these cold Canadian winters, who doesn't want that? 
The classic black, white and grey plaid keep this jacket timeless and ready to be paired with anything. Literally anything. It's lined with quilted fabric for extra warmth and the over sized lapel, pockets, and buttons give this a little extra something, and I'm here for the details. 
It also has a back split for easy walking. 
I truly believe this coat is gender inclusive (as are all clothes!) 
The coat has some shoulder padding (not excessive) just enough to keep the jacket from dropping off the shoulders and it gives you that "grandpa jacket" look. It fits true to size, with a little extra room for your comfy sweaters and hoodies. 
I can see this jacket dressed up or dressed with a sweatsuit. The options are endless!